Eksplorasi Media Seni Rupa Dua Dimensi Menggunakan Mika Akrilik
Abstract
ABSTRACT
The exploration of the art medium is intended as a step to gain new knowledge and experience using the main material, namely acrylic mica in creating works of fineart to find novelty or new opportunities in the art medium. Acrylic mica is selected because it has the characteristics of being transparent, strong, flexible, durable (not easily broken), non-absorbent, and lighter in weight compared to glass. This advantage is an interesting opportunity if it can be utilized properly so that it becomes one of the alternative mediums of painting besides conventional media such as canvas, paper, recin, and wood.
Keywords: exploration, media, acrylic mica, fine art
Keywords
exploration; media; acrylic mica; fine art
References
DAFTAR PUSTAKA
Adi, Sigit Purnomo. 2017. Perkembangan Seni Urban Di Surakarta. Surakarta: UNS Press.
———. 2019. "Pemanfaatan Kolase Dengan Media Kertas Dan Plastik Bekas Dalam Karya Monoprint Yang Ramah Lingkungan." Brikolase : Jurnal Kajian Teori, Praktik Dan Wacana Seni Budaya Rupa 11 (1): 70–75. https://doi.org/10.33153/brikolase.v11i1.2668.
Aldrich, Virgil C. n.d. Philosophy of Art. United State Of America: Englewood Cliffs.
Bahari, Nooryan. 2008. Kritik Seni Wacana Apresiasi Dan Kreasi. Yogyakarta: Pustaka Pelajar.
Hawkins, Alma M. 1964. Creating Through Dance. London: Prentice Hall Inc.
Junaedi, Deni. n.d. Estetika Jalinan Subjek, Objek, Dan Nilai. Yogyakarta: ArtCiv.
Marianto, MD. 2015. Art & Levitation: Seni Dalam Cakrawala Quantum. Yogyakarta: Pohon Cahaya.
———. 2017. Art & Life Force In A Quantum Perspective. Yogyakarta: Scritto Books.
Piliang, Yasraf Amir. 2019. Medan Kreativitas Memahami Dunia Gagasan. Yogyakarta: Cantrik Pustaka.
Susanto, M. 2011. "Diksi Rupa: Kumpulan Istilah Dan Gerakan Seni Rupa," undefined-undefined. https://www.mendeley.com/catalogue/2805a6a0-48c4-3034-a744-36bb692292d4/?utm_source=desktop&utm_medium=1.19.4&utm_campaign=open_catalog&userDocumentId=%7B8d9c61f5-840c-44d1-b560-3c75ca353ad2%7D.
Www.britannica.com/science/polymethyl-methacrylate. n.d. "No Title."
DOI:
https://doi.org/10.33153/brikolase.v13i1.3571
Refbacks
There are currently no refbacks.
Copyright (c) 2021 Stera Laksana Ramatullah
This work is licensed under a
Creative Commons Attribution 4.0 International License
.
Brikolase has been Indexed by :









Brikolase Index Copernicus Value (ICV) for 2019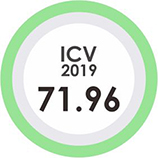 Brikolase: Jurnal Kajian Teori, Praktik dan Wacana Seni Budaya Rupa
ISSN 2087-0795 (print) | 2622-0652 (online)
Published by  Institut Seni Indonesia Surakarta
W : https://jurnal.isi-ska.ac.id/index.php/brikolase/index
E : brikolase@isi.ska.ac.id