ESTETIKA FOTOGRAFI VINTAGE COLOR STYLE PADA KARYA NIGHTSCAPE PROJECT
Abstract
The purpose of this study is to identify how Cimahi batik is a form of cultural identity. So that the younger generation, especially the people of Cimahi City, can know and appreciate the form of cultural heritage in the form of one of the city's identities. The research method used is a qualitative method by analyzing the data found. This study uses a literature/library study approach in which the data comes from various literatures, both in print and electronic media related to cultural identity in the form of urban batik in the view of anthropology. This is motivated by the swift currents of globalization which can cause cultural shifts. Even the cultural identity of an area can be lost if it is not preserved. So this research is expected to increase the sense of respect and pride in the existing cultural identity.
Keywords
batik motif;identity;culture;anthropology
References
Agasi, M. R. (2017) Estetika Fotografi Still Life Pada Produk Online Shop Folk Store.https://core.ac.uk/download/pdf/132421758.pdf.
Anugerah, A. R. (2017) Kajian estetika fotografi ; Lisa Fonssagrives dalam karya Irving Penn di cover Majalah Vogue.
Apriliani, Z., Hasanah, U. and Anas, A. S. (2019) 'Pembuatan Video Profil dengan Efek Vintage Kampung Wisata Adat Sengkoah sebagai Media Informasi', JTIM : Jurnal Teknologi Informasi dan Multimedia, 1(1), pp. 57–65. doi: 10.35746/jtim.v1i1.15.
Arikunto, S. (2010) Metode Penelitian. Jakarta: Rineka Cipta.
Astuti, Y. D. (2015) 'DARI SIMULASI REALITAS SOSIAL HINGGA HIPER-REALITAS VISUAL: Tinjauan Komunikasi Virtual Melalui Sosial Media di Cyberspace', Profetik, 8(2), pp. 15–26.
Bruce, 2011 (2013) Digital Photography Complete Course, Journal of Chemical Information and Modeling. Edited by Hannah Bowen. New York: Liz Wheeler.doi:10.1017/CBO9781107415324.004.
Darby, D. (2010) 'Photography, Narrative, and the Landscape of Memory in Walter Benjamin's Berlin', (October 2014), pp. 37–41.doi:10.1080/00168890009597420.
Dhorita, Y. (2019) REMEMBRANCE DALAM KARYA FOTOGRAFI "SI PENYARU MEMBUAT HARU". ISI Surakarta.
Enterprise, J. (2012) Instagram untuk Fotografi Digital dan Bisnis Kreatif. Jakarta: PT. Elex Media Komputindo.
Francesco, P. and Tombesi, W. D. (2018) THE ADVANCED PHOTOGRAPHY GUIDE. DK: Dorling Kindersley.
Gnanadesikan, R. (1977) Methods for Statistical Data Analysis of Multivariate Observations., Biometrics. doi: 10.2307/2529800.
Herlambang, R. W. et al. (2016) 'Pengenalan Cagar Budaya Pasar Gede Harjonagoro Surakarta Bagi Generasi Muda Melalui Video Time Lapse', (36), pp. 130–141.
Jurgenson, N. (2019) The Social Photo: On Photography and Social Media. London: Verso.
Präkel, D. (2010) The Fundamentals of Creative Photography, The Fundamentals of Creative Photography. Rue des Fontenailles: AVA Publishing SA. doi:10.5040/9781350089037.
Prameswari, N. S. (2019) 'Nilai estetik pada video selang masa dan sinematik', International Journal of Creative Future and Heritage (TENIAT), pp. 1–15.
Pring, M. J. (2014) Technical Analysis Explained. New York. Putra, A. S. (2016) Vintage dalam Karya Fotografi Still Life.
Renaningtyas, L. (2013) Vintage Me: Diana Rikasari dalam Instagram Makna dan Representasi Realitas Foto Vintage dalam Instagram. Institut Teknologi Bandung.
Setiawan, R. and Bornok, M. B. (2015) 'ESTETIKA FOTOGRAFI'.
Studies, M. (2013) 'Visual Culture', 46(4), pp. 108-116. Sudjojo, M. (2010) Tak Tik Fotografi. Jakarta: Kawah Media.
Truyen, F. (2017) Europeana Photography: vintage photography revisited. Cultural Studies Leuven
DOI:
https://doi.org/10.33153/brikolase.v14i2.4083
Refbacks
There are currently no refbacks.
Copyright (c) 2023 Nadia Sigi Prameswari, Gunadi Gunadi, Eko Setiawan
This work is licensed under a
Creative Commons Attribution 4.0 International License
.
Brikolase has been Indexed by :









Brikolase Index Copernicus Value (ICV) for 2019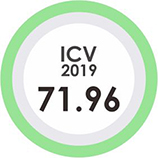 Brikolase: Jurnal Kajian Teori, Praktik dan Wacana Seni Budaya Rupa
ISSN 2087-0795 (print) | 2622-0652 (online)
Published by  Institut Seni Indonesia Surakarta
W : https://jurnal.isi-ska.ac.id/index.php/brikolase/index
E : brikolase@isi.ska.ac.id