APLIKASI LIMBAH KAYU SEBAGAI MATRIK/ ACUAN PADA PENCIPTAAN KARYA SENI GRAFIS TEKNIK CETAK TINGGI BERBASIS FALSAFAH JAWA
Abstract
Relief print is a printmaking technique that is quite well known among the public. Relief print is considered static. This creation research aims to produce novelty by combining wood waste, references/matrixes in woodcut and Aja Dumeh's Javanese philosophy with artistic creation process methods: experimentation, reflection and creation of works. The creation of this matrix or reference is expected to be able to combine wood waste, reference/matrix in Relief print with Aja Dumeh's Javanese philosophy so that the resulting work is able to campaign about the importance of protecting the environment and also preserving culture, especially Javanese culture, so that it is expected to be able to compete in the international world. The results of this creation research have creations and innovations in the form of references/matrixes used in woodcut which come from Javanese philosophy conceptually and wood waste materially
Keywords
relief print;reference;matrix;printmaking
References
Adi, S. P. (2019). Pemanfaatan Kolase dengan Media Kertas dan Plastik Bekas Dalam Karya Monoprint Yang Ramah Lingkungan. Brikolase : Jurnal Kajian Teori, Praktik Dan Wacana Seni Budaya Rupa, 11(1), 70–75. https://doi.org/10.33153/brikolase.v11i1.2668
Adi, S. P., & Marutama, I. G. N. T. (2019). PEMANFAATAN KOLASE DENGAN MEDIA KERTAS DAN PLASTIK BEKAS DALAM KARYA MONOPRINT. Brikolase: Jurnal Kajian Teori, Praktik Dan Wacana Seni Budaya Rupa, 11(1), 70–75.
Adi, S. P., Marutama, I. G. N. T., Rinawati, S., & Saat, M. K. M. (2022). Poster dengan Teknik Cetak Tinggi sebagai Bentuk Kritik Ekologis. Visual Heritage: Jurnal Kreasi Seni Dan Budaya, 4(2), 84–91.
Adi, S. P., Susanti, N., & Panggabean, M. N. R. (2020). Cetak Tinggi dan Pengaplikasiannya. Dwi-Quantum.
Ikhwanto, B. (2019). MAKNA HAKIKI "AJA DUMEH." Kawruh: Journal of Language Education, Literature and Local Culture, 1(1), 96–104.
Isnanta, Satriana Didiek. (2010). Fusi Seni Dan Teknologi Mendorong Metamorfosis Bentuk Karya Seni Rupa (Studi penciptaan karya Video Performance). Brikolas, 2(2), 1–3.
Isnanta, Statriana Didiek. (2015). Penciptaan Karya Seni Mixed Media Berbasis Ekperimentasi Dengan Teknik Assemblage. Abdi Seni, 6(1).
Kartika, S. D. (2016). Kreasi Artistik perjumpaan tradisi modern dalam paradigma kekaryaan seni. Citra Sains.
Marianto, M. D. (2017). Seni dan Daya Hidup Dalam Perspektif Quantum. Scritto Books dan BP ISI Yogyakarta.
Marutama, I. G. N. T., Adi, S. S., Wulandari, E., & Herlambang, R. W. (2018). Tri Pramana As Visual Communication Design Approach. 3rd International Conference on Creative Media, Design and Technology (REKA 2018), 329–332.
Supriyanto, E. (2000). Setengah Abad Seni Grafis Indonesia. KPG (Kepustakaan Populer Gramedia).
Suseno, F. M. (1983). Etika Jawa, Sebuah Analisa Falsafah tentang Kebijaksanaan Hidup Jawa. PT. Gramedia.
Widayat, R., Khizal, M., Saat, M., & Adi, S. P. (2020). The Aesthetics and Meaning of Traditional Paintings : Forbidden Wealth ( Pesugihan ) by Tjitro Waloejo in Surakarta. Wacana Seni Journal of Arts Discourse, 19, 29–45. https://doi.org/https://doi.org/10.21315/ws2020.19.3
DOI:
https://doi.org/10.33153/brikolase.v14i2.4367
Refbacks
There are currently no refbacks.
Copyright (c) 2023 sigit purnomo adi
This work is licensed under a
Creative Commons Attribution 4.0 International License
.
Brikolase has been Indexed by :









Brikolase Index Copernicus Value (ICV) for 2019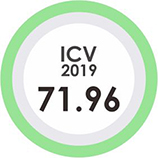 Brikolase: Jurnal Kajian Teori, Praktik dan Wacana Seni Budaya Rupa
ISSN 2087-0795 (print) | 2622-0652 (online)
Published by  Institut Seni Indonesia Surakarta
W : https://jurnal.isi-ska.ac.id/index.php/brikolase/index
E : brikolase@isi.ska.ac.id