---
---
Texture
art and culture journal
, memuat artikel hasil penelitian ilmiah dalam spektrum penciptaan dan pengkajian seni rupa dan budaya. Lokus seni rupa berfokus pada praktik artistik dalam beragam medium ungkap, baik dua dimensi, tiga dimensi, hingga ragam praktik seni intermedia. Budaya dilihat dalam konteks praksis, berikut ragam produk budaya visual yang tumbuh dan berkembang di masyarakat. Kajian terkait seni rupa dan budaya dalam jurnal ini menggunakan pendekatan kritis dalam perspektif keilmuan interdisipliner.
If you have problems with the journal, please contact us at texture@isi.ac.id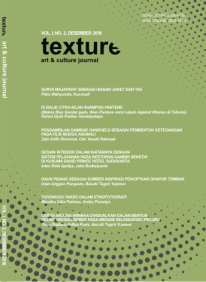 Announcements
No announcements have been published.
Vol 5, No 2 (2022)