---
| | |
| --- | --- |
| Journal title | Lakon Jurnal Pengkajian & Penciptaan Wayang |
| Initials | LAKON |
| Abbreviation | Lakon J. Pengkaj. Pencipta. Wayang. |
| Frequency | 2 issues per year (July and December) |
| DOI | prefix 10.26555 |
| Print ISSN | 1978-0524 |
| Online ISSN | on process |
| Editor-in-chief | Andi Wicaksono |
| Publisher | Institut Seni Indonesia Surakarta |
| Citation Analysis | Google Scholar |
| OAI address | OAI LAKON |
---
Lakon Jurnal Pengkajian & Penciptaan Wayang is a journal of puppets study and creation. This journal welcomes the study and creation of multidimensional puppet art research and review. It is limited to the art of wayang within the scope of Puppet Leather Purwa and the various forms and styles of puppet theater in Indonesia and the world, traditional and contemporary. The journal published quantitative-qualitative empirical research and critical thoughts related to the study and creation of wayang and puppet theater that has never been published in any form. Areas that can be stated in journal articles can include:
Puppet and culture
Puppet and Education
Puppet and Development
Puppet and Literature
Puppets and Philosophy
Puppets and Technology
Puppet and Sociology
Puppet and Politics
Puppet and Anthropology
Puppet and World Development
Puppet and Creative Creation - Innovative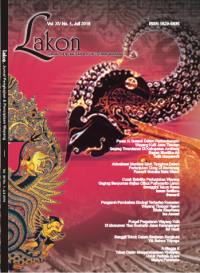 Announcements
No announcements have been published.
Vol 20, No 1 (2023)