CAPTURE is an art scientific journal that publishes the results of research, art creation or artistic research, and theoretical studies in the field of recording media art. The focus and scope of the journal consists of the fields of film, television, photography, animation and new media arts.
CAPTURE is published twice a year, in July and December. Admitted and published articles can be freely accessed on this website.
CAPTURE: Jurnal Seni Media Rekam was first published in 2009 along with the establishment of a new faculty at Institut Seni Indonesia (ISI) Surakarta, namely Fakultas Seni Rupa dan Desain (FSRD). CAPTURE : Jurnal Seni Media Rekam was established with the print ISSN number 2086-308X, then in 2013 it obtained the electronic ISSN number 2338-428X.
CAPTURE : Jurnal Seni Media Rekam has been indexed both at national and international including GARUDA (2016), Google Scholar (2016), ISJD (2016), SINTA (2018), Crossref (2018), and Dimensions (2021) .
The journal has been accredited by the Ministry of Research Technology and Higher Education of the Republic of Indonesia. CAPTURE: Jurnal Seni Media Rekam has obtained Rank 4 Accreditation – Sinta 4  (SK No. 21/E/KPT/2018) and Rank 3 Accreditation – Sinta 3 (SK No. 36/E/KPT/2019).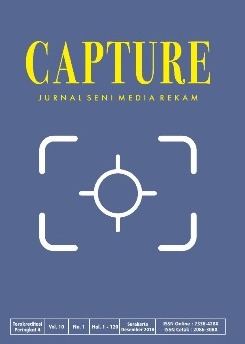 Announcements
No announcements have been published.
Vol 14, No 2 (2023)
Table of Contents
Articles
(1) Anisa Efani Yulandara Nastiti (Maranatha Christian University, Indonesia)
(2) Anton Sutandio ((Google Scholar : H-INDEX 1); Faculty of Languages and Cultures Maranatha Christian University, Bandung, Indonesia)


10.33153/capture.v14i2.4993

Views of Abstract: 1135 | PDF: 99

92-106
(1) Edelin Wangsa (Universitas Multimedia Nusantara, Indonesia)
(2) Natalia Depita (Universitas Multimedia Nusantara, Indonesia)


10.33153/capture.v14i2.4124

Views of Abstract: 100 | PDF: 49

107-122
(1) Didik Suharijadi (Universitas Jember, Indonesia)
(2) Diana Fausiyah (Universitas Jember, Indonesia)
(3) Soekma Yeni Astuti (Universitas Jember, Indonesia)


10.33153/capture.v14i2.4488

Views of Abstract: 77 | PDF: 44

123-135
(1) Priskilla Trisna Nugraheni (SATYA WACANA CHRISTIAN UNIVERSITY, Indonesia)
(2) Michael Bezaleel Wenas (SATYA WACANA CHRISTIAN UNIVERSITY, Indonesia)
(3) Birmanti Setya Utami (SATYA WACANA CHRISTIAN UNIVERSITY, Indonesia)


10.33153/capture.v14i2.5019

Views of Abstract: 94 | PDF: 62

136-153
(1) Denny Antyo Hartanto (Universitas Jember, Indonesia)
(2) Ghanesya Hari Murti (Universitas Jember, Indonesia)
(3) Ni Luh Ayu Sukmawati (Universitas Jember, Indonesia)
(4) Irana Astutiningsih (Universitas Jember, Indonesia)


10.33153/capture.v14i2.4982

Views of Abstract: 78 | PDF: 35

167-182
(1) Anang Ma'ruf Bagus Yuniar (Institut Seni Indonesia Surakarta, Indonesia)
(2) Andry Prasetyo (Institut Seni Indonesia Surakarta, Indonesia)


10.33153/capture.v14i2.4386

Views of Abstract: 95 | PDF: 37

183-192