CAPTURE is an art scientific journal that publishes the results of research, art creation or artistic research, and theoretical studies in the field of recording media art. The focus and scope of the journal consists of the fields of film, television, photography, animation and new media arts.
CAPTURE is published twice a year, in July and December.
Admitted and published articles can be freely accessed on this website and indexed by national and international indexing. And, this journal also has been listed in the national and international university libraries.
The journal has been accredited by the Ministry of Research Technology and Higher Education of the Republic of Indonesia.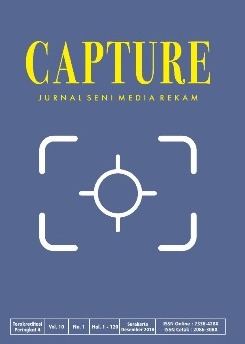 Announcements
No announcements have been published.
Vol 13, No 2 (2022)
Table of Contents
Articles
(1) Erlina Novianti (Trisakti University, Indonesia)
(2) Silviana Amanda (Trisakti University, Indonesia)
(3) Malcheni Sanggrawati (Trisakti University, Indonesia)


10.33153/capture.v13i2.3688

Views of Abstract: 158 | PDF: 49

78-95
(1) Anita Devi Maharani (Institut Seni Indonesia Surakarta, Indonesia)
(2) Sapto Hudoyo (institut seni indonesia surakarta, Indonesia)


10.33153/capture.v13i2.3833

Views of Abstract: 92 | PDF: 46

96-107
(1) Dara Bunga Rembulan (Institut Seni Budaya Indonesia Bandung, Indonesia)
(2) Rufus Goang Swaradesy (Institut Seni Budaya Indonesia Bandung, Indonesia)


10.33153/capture.v13i2.4084

Views of Abstract: 75 | PDF: 5

108-119
(1) Siwi Anjar Sari (Universitas Telkom Bandung, Indonesia)
(2) Dyah Ayu Wiwid Sintowoko (Universitas Telkom Bandung, Indonesia)


10.33153/capture.v13i2.3796

Views of Abstract: 22 | PDF: 12

126-145
(1) Novian Denny Nugraha (Universitas Telkom, Bandung, Indonesia)
(2) Anggar Erdhina Adi (Universitas Telkom, Bandung, Indonesia)
(3) Sri Mharani Budi Haswati (Universitas Telkom, Bandung, Indonesia)
(4) Dyah Ayu Wiwid Sintowoko (Universitas Telkom, Bandung, Indonesia)


10.33153/capture.v13i2.4022

Views of Abstract: 21 | PDF: 2

146-155