---
---
Dewa Ruci: Jurnal Pengkajian dan Penciptaan Seni
draws its contributions from academics and practitioner-researchers at the interface of new visual and performing arts. It acts as a forum for critical scholarship, innovative practice, and creative pedagogy, addressing themes that may be domain-specific (e.g., theatre, dance, music, live art, visual arts) or situated at the convergence of two or more disciplines.
The journal invites original, significant, and rigorous inquiry into all subjects within or across disciplines related to visual and performing arts. It encourages debate and cross-disciplinary exchange across a broad range of approaches. The spectrum of topics include:
Ethnomusicology
Karawitanology
Music Education
Musicology
Dance
Theatre
Movie and Television
Interior Design
Industrial Design
Media Arts
Fine Arts
Photography
These topics are addressed in full-length academic articles, critical statements on current issues, developmental practice, and reviews of books and live/media-based visual and performing arts.
The journal presents an innovative platform for researchers, students, practitioners, and educators to learn from and contribute to the field. All articles are subject to initial Editor screening and then a rigorous double-blind peer-review process before publication.
If you have problems with the journal, please contact us at dewaruci@isi.ac.id
2685-287X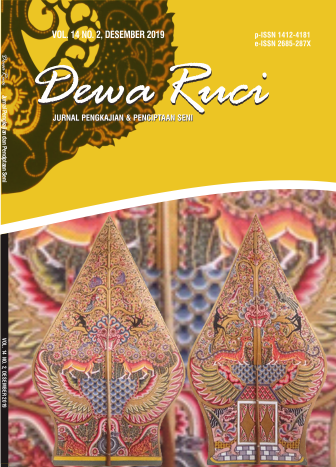 Announcements
Kebijakan Redaksional di Jurnal Dewa Ruci/Editorial Policy in Dewa Ruci's Journal

Demi peningkatan kualitas Jurnal Dewa Ruci, maka Chief Editor perlu melakukan perubahan kebijakan [To improve the quality of Dewa Ruci's Journal, the Chief Editor needs to make policy changes].

Posted: 2021-02-16
More...
Vol 17, No 2 (2022)
The issue is in progress.
The author's countries come from Japan and Indonesia
Table of Contents
Articles
(1) Halimah Agustina (Pascasarjana Universitas Negeri Semarang, Indonesia)
(2) Malarsih Malarsih (Pascasarjana Universitas Negeri Semarang, Indonesia)
(3) Deasylina da Ary (Pascasarjana Universitas Negeri Semarang, Indonesia)


10.33153/dewaruci.v17i2.4642

Views of Abstract: 4294 | PDF: 1

78-88
(1) Vicky Ferdian Saputra (Institut Seni Indonesia Yogyakarta, Indonesia)
(2) M. Kholid Arif Rozaq (Institut Seni Indonesia Yogyakarta, Indonesia)
(3) Rini Riris Setyowati (Universitas Negeri Yogyakarta, Indonesia)


10.33153/dewaruci.v17i2.4549

Views of Abstract: 75 | PDF: 0

89-98
(1) Dhian Lestari Hastuti (Institut Teknologi Bandung, Indonesia)
(2) Imam Santosa (Institut Teknologi Bandung, Indonesia)
(3) Achmad Syarief (Institut Teknologi Bandung, Indonesia)
(4) Pribadi Widodo (Institut Teknologi Bandung, Indonesia)


10.33153/dewaruci.v17i2.4579

Views of Abstract: 201 | PDF: 9

99-117
(1) Salsa Solli Nafsika (Program Studi Film dan Televisi Fakultas Pendidikan Seni dan Desain Universitas Pendidikan Indonesia, Indonesia)
(2) Zakarias Sukarya Soeteja (Program Studi Film dan Televisi Fakultas Pendidikan Seni dan Desain Universitas Pendidikan Indonesia, Indonesia)
(3) Irwan Sarbeni (Program Studi Film dan Televisi Fakultas Pendidikan Seni dan Desain Universitas Pendidikan Indonesia, Indonesia)
(4) Hery Supiarza (Program Studi Film dan Televisi Fakultas Pendidikan Seni dan Desain Universitas Pendidikan Indonesia, Indonesia)


10.33153/dewaruci.v17i2.4422

Views of Abstract: 78