---
---
Dewa Ruci: Jurnal Pengkajian dan Penciptaan Seni
draws its contributions from academics and practitioner-researchers at the interface of new visual and performing arts. It acts as a forum for critical scholarship, innovative practice, and creative pedagogy, addressing themes that may be domain-specific (e.g., theatre, dance, music, live art, visual arts) or situated at the convergence of two or more disciplines.
The journal invites original, significant, and rigorous inquiry into all subjects within or across disciplines related to visual and performing arts. It encourages debate and cross-disciplinary exchange across a broad range of approaches. The spectrum of topics include:
Ethnomusicology
Karawitanology
Music Education
Musicology
Dance
Theatre
Movie and Television
Interior Design
Industrial Design
Media Arts
Fine Arts
Photography
These topics are addressed in full-length academic articles, critical statements on current issues, developmental practice, and reviews of books and live/media-based visual and performing arts.
The journal presents an innovative platform for researchers, students, practitioners, and educators to learn from and contribute to the field. All articles are subject to initial Editor screening and then a rigorous double-blind peer-review process before publication.
If you have problems with the journal, please contact us at dewaruci@isi.ac.id
2685-287X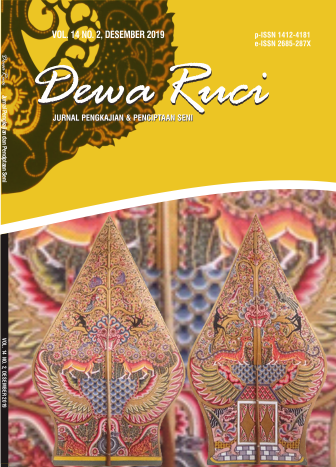 Announcements
Notice of Migration Process for Dewa Ruci: Jurnal Pengkajian dan Penciptaan Seni from OJS 2 to OJS 3

Dear Authors, Readers, and other Stakeholders,

We are writing to inform you that, in our ongoing efforts to enhance our service, Dewa Ruci: Jurnal Pengkajian dan Penciptaan Seni will be undergoing a migration process from OJS 2 to OJS 3. This process will take place from December 1, 2023, to December 31, 2023.

During this period of maintenance, we regret to inform you that the publishing process will be temporarily disrupted. We apologize for any inconvenience this may cause and appreciate your understanding and cooperation as we work to improve our platform.

Thank you for your attention and cooperation.

Best Regards,
Dewa Ruci: Jurnal Pengkajian dan Penciptaan Seni



Posted: 2023-11-01
Vol 18, No 2 (2023)
(Forthcoming Issue)
Table of Contents
Articles
(1) Abizar Algifari Saiful (Universitas Pendidikan Indonesia, Bandung, Jawa Barat, Indonesia)
(2) Yudi Sukmayadi (Universitas Pendidikan Indonesia, Bandung, Jawa Barat, Indonesia)


10.33153/dewaruci.v18i2.4569

Views of Abstract: 52 | PDF: 13

95-112
(1) Rr. Chandrarezky Permatasari (Universitas Mercu Buana Faculty of Design and Creative Art Interior Design, Indonesia)
(2) SM. Wardhana (Program Studi Desain Interior, Fakultas Desain dan Industri Kreatif, Universitas Esa Unggul, Jakarta, Indonesia)
(3) YN. Utomo (Program Studi Desain Interior, Fakultas Desain dam Seni Kreatif, Universitas Mercu Buana, Jakarta, Indonesia)


10.33153/dewaruci.v18i2.4382

Views of Abstract: 40 | PDF: 13

113-122
(1) Tony Anwar Rosidy (Universitas Gadjah Mada, Bulaksumur Yogyakarta,Sleman, 55281, Indonesia)
(2) Aton Rustandi Mulyana (Institut Seni Indonesia Surakarta, Indonesia)
(3) Yayi Suryo Prabandari (Universitas Gadjah Mada, Bulaksumur Yogyakarta,Sleman, 55281, Indonesia)


10.33153/dewaruci.v18i2.4723

Views of Abstract: 29 | PDF: 5

123-133
(1) Linda Utami (Institut Seni Indonesia Surakarta, Indonesia)
(2) Sunarmi Sunarmi (Institut Seni Indonesia Surakarta, Indonesia)
(3) Rahayu Adi Prabowo (Institut Seni Indonesia Surakarta, Indonesia)


10.33153/dewaruci.v18i2.5431

Views of Abstract: 59 | PDF: 3

134-145
(1) I Nyoman Kariasa (Institut Seni Indonesia Denpasar, Bali, Indonesia)
(2) Wardizal Wardizal (Institut Seni Indonesia Denpasar, Bali, Indonesia)
(3) Hendra Santosa (Institut Seni Indonesia Denpasar, Bali, Indonesia)


10.33153/dewaruci.v18i2.4904

Views of Abstract: 31 | PDF: 4

146-158
(1) Mellany Octa Salsabila Sugiarto (Universitas Negeri Surabaya, Indonesia)
(2) I Nengah Mariasa (Universitas Negeri Surabaya, Indonesia)
(3) Setyo Yanuartuti (Universitas Negeri Surabaya, Indonesia)


10.33153/dewaruci.v18i2.5191

Views of Abstract: 31 | PDF: 7

159-166
(1) Rr. Paramitha Dyah Fitriasari (Pengkajian Seni Pertunjukan dan Seni Rupa, Universitas Gadjah Mada Yogyakarta, Indonesia)
(2) Maharani Hares Kaeksi (Pengkajian Seni Pertunjukan dan Seni Rupa, Universitas Gadjah Mada Yogyakarta, Indonesia)


10.33153/dewaruci.v18i2.4896

Views of Abstract: 33 | PDF: 7

167-176
(1) Damarati Rahma Widiasa (Universitas Pembangunan Nasional Veteran Jakarta, Indonesia)
(2) Vina Mahdalena (Universitas Pembangunan Nasional Veteran Jakarta, Indonesia)
(3) Lusia Handayani (Universitas Pembangunan Nasional Veteran Jakarta, Indonesia)


10.33153/dewaruci.v18i2.5384

Views of Abstract: 61 | PDF: 19

177-188
(1) Adiatma Hudzaifah (Institut Seni Indonesia Surakarta, Surakarta, Jawa Tengah, Indonesia)
(2) Zulkarnain Mistortoify (Institut Seni Indonesia Surakarta, Surakarta, Jawa Tengah, Indonesia)


10.33153/dewaruci.v18i2.5455

Views of Abstract: 29 | PDF: 5

189-205
(1) Syeilendra Syeilendra (Pendidikan Sendratasik, Fakultas Bahasa dan Seni, Universitas Negeri Padang, Indonesia)
(2) Ayuthia Mayang Sari (Pendidikan Sendratasik, Fakultas Bahasa dan Seni, Universitas Negeri Padang, Indonesia)


10.33153/dewaruci.v18i2.5417

Views of Abstract: 25 | PDF: 6

206-216