---
---
Pendopo's journal is a scholarly, refereed publication dedicated to issues related to interior design. Scholarly inquiry representing the entire spectrum of interior design theory, research, education, and practice is invited.
These topics are addressed in full-length academic articles, critical statements on current issues, developmental practice, and book reviews. Submissions are encouraged from educators, designers, anthropologists, architects, historians, psychologists, sociologists, or others interested in interior design. All articles are subject to initial Editor screening and then a rigorous double-blind peer-review process before publication.
If you have problems with the journal, please contact us at pendhapa@isi-ska.ac.id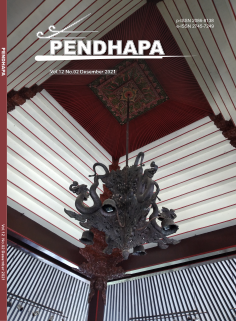 Announcements
No announcements have been published.
Vol 11, No 2 (2020)
Table of Contents
Articles
Muhamad Fadilah Fatah, Melyndo Ari Oftariano, Taksulanapurusa Zakly Setiabudi, Eko Sri Haryanto

10.33153/pendhapa.v11i2.3614

Views of Abstract: 38 | PDF: 20

62 - 69
Jaza Chehata Hadi

Views of Abstract: 20 | PDF: 13

77 - 84