RUNTAS, a journal of the Batik Fashion Design study program and published on behalf of the Faculty of Fine Arts and Design ISI Surakarta, focuses on advancing scientific knowledge about the diversity of fine and performing arts both in Indonesia and in the world. RUNTAS Journal was established in October 2022 as a form of enthusiasm for artists, academics, art observers, curators, researchers, and academics to share and maintain the sustainability of fine arts in Indonesia and the world.
The RUNTAS journal provides the widest possible open access to readers to access abstracts and full papers. Papers can be downloaded anytime and anywhere to be used as a reference.
By publishing your paper, you are contributing to the development of art. Join us and submit your article. Be part of the wealth of art science and art preservation in the future. Register now!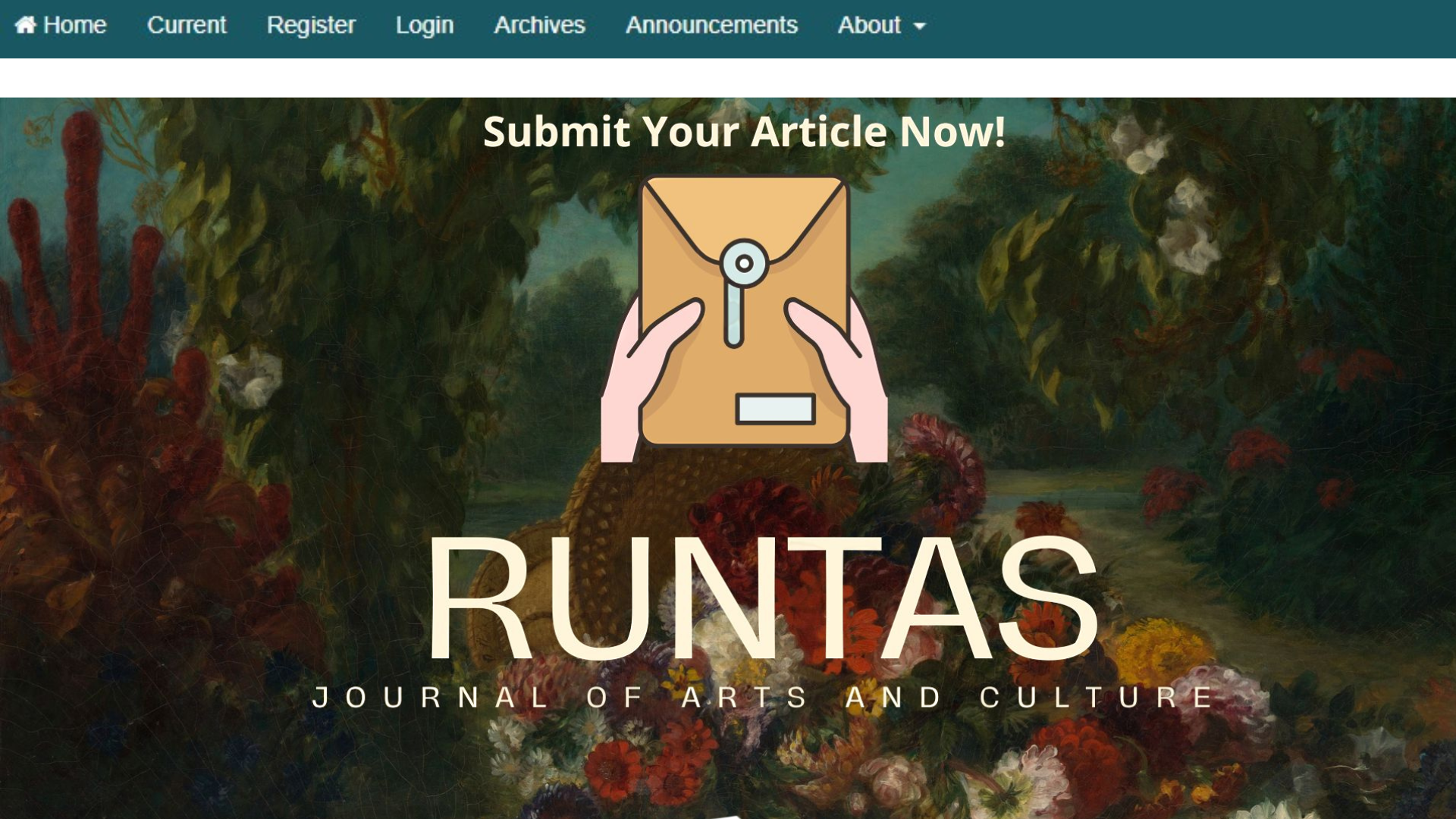 Announcements
No announcements have been published.
Vol 1, No 2 (2023)
Table of Contents
Articles
(1) ainun nur kholifah (Indonesian Institute of Art Surakarta)
(2) Syarifah Nur Hajja (Indonesian Institute of Art Surakarta)


Views of Abstract: 41 | PDF: 14

1-13
(1) alek sandra (Indonesia Institute of Art Surakarta, Indonesia)
(2) Arfiati Nurul Komariah (Indonesia Institute of Art Surakarta)


Views of Abstract: 30 | PDF: 13

14-27
(1) Lisa tri agustin (Indonesian Institute of the Arts Surakarta)
(2) Arif Jati Purnomo (Indonesian Institute of the Arts Surakarta)


Views of Abstract: 35 | PDF: 16

28-42
(1) elisa bella anggita (Indonesian Institute of the Arts Surakarta)
(2) Guntur Guntur (Indonesian Institute of the Arts Surakarta)


Views of Abstract: 29 | PDF: 9

43-61
(1) Intan Wulansari (Indonesian Institute of the Arts Surakarta)
(2) Timbul Subagya (Indonesian Institute of Arts and Culture Bandung)


Views of Abstract: 33 | PDF: 17

62-74
(1) Luluh Pratiwi (Indonesian Institute of the Arts Surakarta, Indonesia)
(2) Agung Cahyana (Indonesian Institute of the Arts Surakarta)


Views of Abstract: 51 | PDF: 24

75-88